What is the fun of Halloween unless there are no Halloween faces on pumpkins activity? It is one of the best fun family activities to show off your crafting skills and also drowns you into the Halloween spirit. Everyone loves pumpkin faces to carve but is now tired of the classic toothy grin and triangle nose design. Therefore, here are some of the best inspiring pumpkin face ideas that will blow your mind. You just need some correct tools to make perfect pumpkin carving designs such as pumpkin carving stencils, a pumpkin scooper, a tooth saw, and a linoleum cutter. Continue reading and choose one of the best pumpkin designs with these pumpkin carving ideas for this Halloween. 
Easy Cool Pumpkin Carvings
Use the cool easy pumpkin carving ideas to decorate your area around the Halloween season. Here are  some of the easy pumpkin carving ideas that you will surely like:
A Thorn in Its Side

Source: pumpkinart.com
A thorn in its side pumpkin design fits perfectly for a centerpiece or birthday party platter accent. It is one of the simple pumpkin carving ideas and will go with every theme. Whether you have a simple Halloween party or a fancy one, there is no way this simple pumpkin carving will not fit. You need to carve the pumpkin in throne design. But remember to connect the thrones, in that way it will give more effect.  
Tiny And Colorful
Source: pinterest.com
Use mini and colorful pumpkins for cute pumpkin carving. Start decorating your space using this one of the best cute pumpkin carving ideas on Halloween. You can place these mini colorful pumpkins anywhere in the house. Whether you are planning to place these on the shelves or a cake plate, they will just look adorable. Use any pumpkin carving face ideas on these pumpkins and it will look flawless.  To add color to the pumpkin, dye it with some food coloring. Choose any simple design and color according to your taste. Anything on the mini pumpkin will look perfect.
Polka Dots
Source: pinterest.com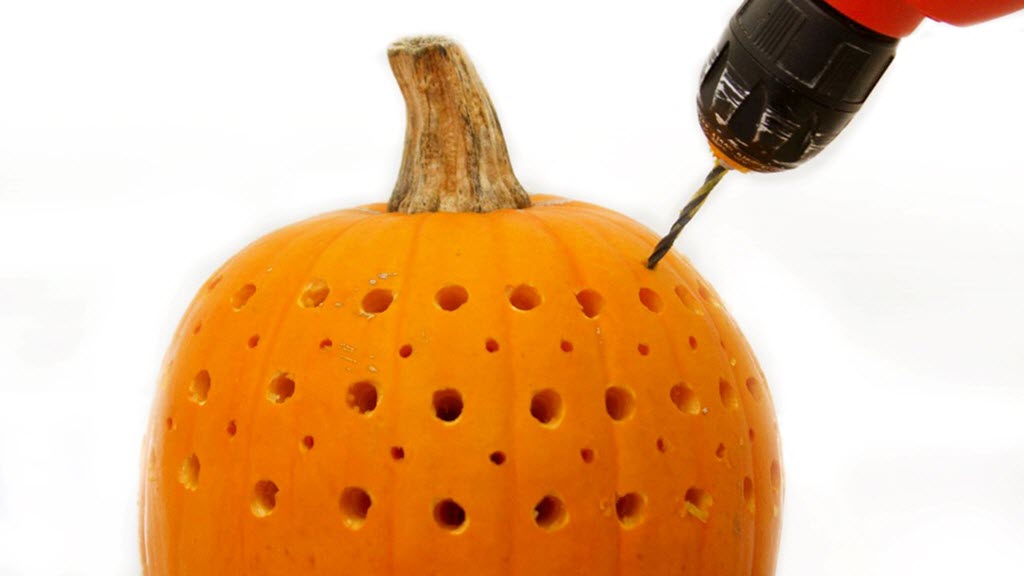 Source: orhp.com
Why go traditional when you can use a pop-art that will lift your mood and atmosphere? The polka dot design is one of the easiest and unique pumpkin carving ideas you will ever find. Carve some small circles on the colorful pumpkin and check the vibe it will create. The selection of the color depends on your choice. Also, you can choose different colors on a single pumpkin. The size and shape will not affect the look; therefore, you can easily use this creative pumpkin carving for a unique vibe. 
Hard Pumpkin Carving Ideas
Why go easy on yourself? Challenge your inner artist and carve something on the pumpkin that will be hard. Here are some of the pumpkin face ideas that will not be too easy to carve on the pumpkin but are the best creative pumpkin carving ideas:
Stencil Carving
Source: theofy.world.com
Source: brainstudy.info
Create a damask pattern on the pumpkin and showcase the talent of your inner artist. For the precision cuts that will be on the pumpkin, stencils will help you out. It is the best way to be creative with the pumpkin carving patterns. Surely it will be a little hard but who does not like challenges? 
Hungry Pumpkin
Source: reddit.com
Source: asnka.com
This two-in-one pumpkin surely takes more time and effort, also is not easy to make. You have to carve two pumpkins in such a way that it should look like one pumpkin is eating another pumpkin. One pumpkin should be small and another should be big. The hardest part is to cut the mouth just the right size to fit a smaller gourd. 
Scary Pumpkin Carving Ideas
What is Halloween without a spooky decoration? Use the following cool scary cool pumpkin carving ideas for this seasons Halloween:
Haunted House
Source: pinterest.com
A topsy-turvy haunted house surrounded by an eerie tree will be perfect for the Halloween party. You can also add flying bats and a mini graveyard for an extra spooky effect. It will be a little tough and time-consuming but will create the perfect Halloween effect if you put this pumpkin in your space. 
Face-Off
Source: pikabu.ru
It is another one of the good pumpkin carving ideas if you want spooky and creepy decoration. To get the perfect face off pumpkin designs, carve the simple face on the pumpkin and after that take that part off. Now, you have to gut the pumpkin. Carve some teeth and add creepy eyeballs. You can also add a skeleton hand if you want to.
Bejeweled Spider Pumpkin
Source: pinterest.com
Carve a spider on the pumpkin and spray paint the orange pumpkin with black color with a silver stem. Add clear adhesive back craft jewels on your spider and add some extra stuff to the pumpkin. 
Funny Pumpkin Carving Ideas
Everybody loves to laugh; therefore here are some of the funny pumpkin carvings that will change the look of the room:
Lollipop Pumpkin
Source: pinterest.com
Source: pumpcandy.com
You can use this pumpkin carving idea for your Halloween. Use a pumpkin to hold some candy sticks. Carve a pumpkin with some funny expressions such as small eyes with a big mouth with a tongue. Serve some of your trick-or-treater candies with this funny pumpkin design.
Pumpkin With Braces

Source: Pinterest.com
Source: cutewallpaper.se
You can use different funny things to make the atmosphere fun with this one of the many Halloween pumpkin ideas. Use this fun idea to brighten up your Halloween party. Carve simple eyes and mouth on the pumpkin with some simple teeth. Now, place the braces on the teeth of the pumpkin. This idea is simple, funny, and unique. 
Small Face Big Pumpkin
Source: pinterest.se
Everyone tries to be extraordinary with Halloween pumpkin carving ideas, so why don't you go funny this Halloween with this idea. Carve very small eyes and a mouth on a giant pumpkin. Also, add the word 'BOO' on the side of the pumpkin. This will surely take your mind off the spooky vibe. 
Conclusion
Here are plenty of pumpkin face ideas for beginners and professionals, from small pumpkin carving ideas to hard pumpkin carving ideas and easy cool pumpkin carvings. Use one of these 2021 pumpkin carving ideas for this year's pumpkin carving activity and use any pretty pumpkin carving ideas on your pumpkin. Show your creativity on these pumpkins and bright up the Halloween atmosphere.  Arrange your creative pumpkin carving perfectly on your front porch or dinner table for a memorable Halloween bash.
For more information on home improvement, visit HouseDecorationTip.